Chocolate and pink pepper = love
or
the best hot chocolate recipe you will ever need
My blogger friend Eleanna with the lovely blog El's Escapes recently posted a recipe for the best hot cocoa recipe and me being me I couldn't resist trying it! Even though I suck at pastry because I can never follow the recipe rules! She styled it so pretty I wanted to try it even more! I added a couple of things to my liking (me being me) and I can honestly say it's the best home made hot chocolate!!! Try it and let me know!
Η φίλη μου Ελεάννα με το υπέροχο blog El's Escapes ανέβασε πρόσφατα μια συνταγή για την καλύτερη ζεστή σοκολάτα! Επειδή ως γνωστόν είναι πολύ λίγα τα γλυκά στα οποία μπορώ να αντισταθώ και επειδή τη φωτογράφισε τόσο λαχταριστά, ανυπομονούσα να βρω ευκαιρία να τη δοκιμάσω, παρόλο που ποτέ δεν πετυχαίνω τα γλυκά γιατί ΔΕΝ μπορώ να ακολουθήσω πιστά τις συνταγές! Πρόσθεσα 1-2 πράγματα που αρέσουν σε εμένα και πραγματικά είναι από τις καλύτερες που έχω δοκιμάσει ποτέ!!!
Στη δική μου παραλλαγή πρόσθεσα τα εξής:
τριμμένη σοκολάτα από πάνω – fail γιατί το ρόφημα ήταν πολύ ζεστό και η σοκολάτα απλώς έλιωσε
τριμμένο ροζ πιπέρι – τέλειο γιατί δίνει ένα υπέροχο kick στη γεύση της σοκολάτας
ελάχιστο τριμμένο τριαντάφυλλο – έδωσε φανταστικό άρωμα ειδικά σε συνδυασμό με το πιπέρι
Επισκεφθείτε το blog της Ελεάννας για τη συνταγή και αν τη δοκιμάσετε πείτε μου τη γνώμη σας!!!
My own variations were:
a few chocolate shavings – which drowned in the hot chocolate 😛
ground pink pepper – added amazing flavour and a lovely kick to the chocolate sweetness
a pinch of dried rose flowers – gave the chocolate a lovely rosy aroma
If you want to try it yourself visit Eleanna's blog for the recipe and don't forget to let us know if you liked it and/or added any flavours of your own!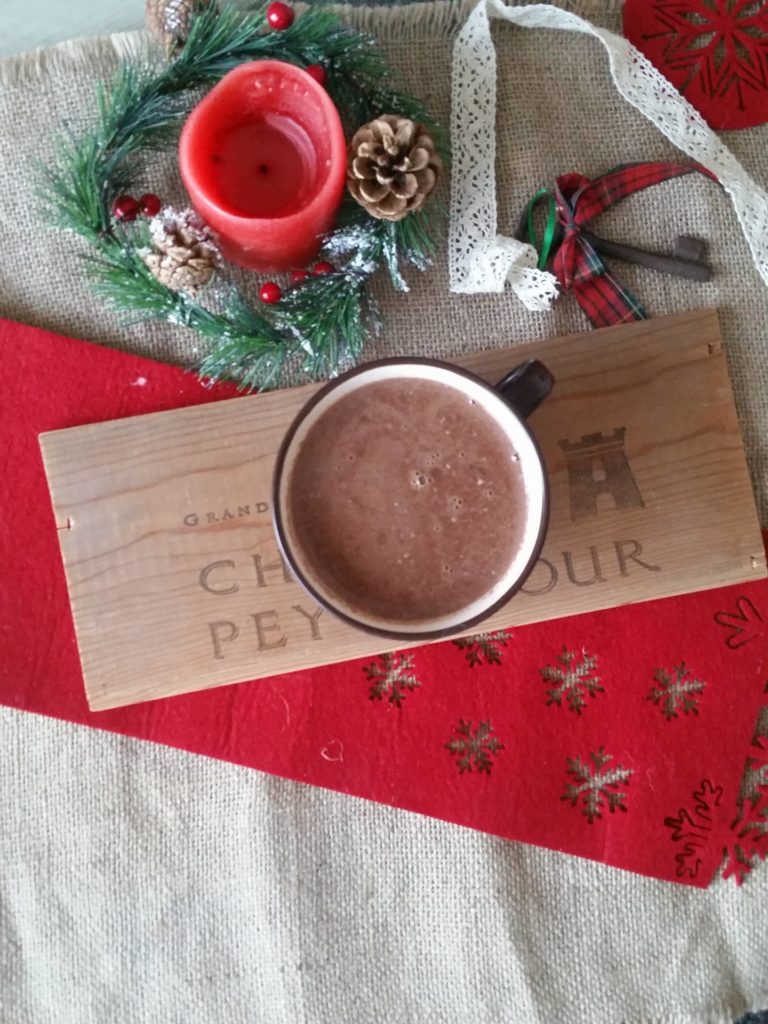 If you are into winter beverages you can also find the recipe for Golden Milk or Turmeric latte here
Δείτε και τη συνταγή για το νέο ρόφημα του χειμώνα, Golden Milk ή Turmeric latte.
Enjoy!!! xoxoxox