There are 2 kinds of poetry on Instagram:
First, it is a social media with undoubted creativity as an ode to all things pretty & styled – from perfect outfits [#ootd, #fromwhereistand #instamodel] to mouthwatering breakfast bowls to travel pics that inspire wanderlust – it is not just a place to post cat pics [#catsofinstagram] or just food any more. I'm sure you've heard the new adjective which is "instagrammable". 
Lately, however Instagram has also become a place of artistic expression. It is not only meta-comments [like the Tumblr @thisisnthappiness trend] or inspirational quotes but also literal poetry that can vary from the superficial to the profound. Some of these Instapoets have sold millions of copies and have been featured in NYTimes and Amazon's best sellers for months. 
 Atticus is one example of the poetry of Instagram, Rupi Kaur is another, and their verses are short, extremely quotable, straightforward and could easily double as Instagram photo captions. 
Of course, there is a darker side to all social media exposure, as In a survey of almost 1,500 Britons aged 14 to 24, the RSPH found that young people were most likely to associate Instagram with negative attributes and low self-esteem, resulting in poor body image and lack of sleep.
The solution, lies of course somewhere in between: taking a step back and recognising the media for what it is: a beautiful photoalbum where you keep your most valuable moments – although, as we live in an exhibitionist age, we want to share it with as many people as possible. Does that validate our moments more? I'm afraid the answer is not that simple. 
Τι εννοούμε λέγοντας poetry of Instagram?
To Instagram έχει γίνει ένας χώρος που υμνεί την ομορφιά [τη φυσική και τη στημένη όπως θα βιαστεί ίσως κάποιος να σχολιάσει], από τέλεια φαγητά (αν δε θέλετε να πεινάτε όλη μέρα μην ακολουθήσετε π.χ. τον Jamie Oliver ή τον Άκη Πετρετζίκη) και outfits που έχουν γίνει μόνο για τη φωτογράφηση και σε καμία μάλλον περίπτωση δε θα φοριούνταν σε κανονική έξοδο μέχρι έξυπνες (;) ατάκες και meta-concepts τύπου Ο δρόμος είχε τη δική του ιστορία @wastedrita, @thissisnthappiness και #boyfriendsofinsta. 
Η ποίηση του Ίνσταγκραμ είναι δυο ειδών: είναι πρώτον η δημιουργικότητά του: μας γεμίζει διάθεση για ταξίδια -υπάρχουν απίστευτα όμορφοι λογαριασμοί με ταξιδιωτικές φωτογραφίες- έμπνευση για διάβασμα [το #bookstagram είναι ένα μίνι ίνσταγκραμ ΜΟΝΟ για βιβλία με φανατικούς οπαδούς]. Για μένα ποίηση είναι ακόμα και τα flatlays που έχουν στηθεί για να φαίνονται τόσο φυσικά και αβίαστα αλλά μπορεί να χρειάστηκαν ώρες για το στήσιμο, τη φωτογράφηση και την επεξεργασία τους. Τα ευφάνταστα hashtags είναι άλλος ένας τρόπος έκφρασης και το επιθετο "instagrammable" έχει μπει για τα καλά στη γλώσσα. 
Yπάρχει όμως και πραγματική ποίηση, ίσως λίγο διαφορετική από αυτή που έχουμε συνηθίσει, προσαρμοσμένη στο στυλ του νέου μέσου χωρίς αυτό να είναι απαραίτητα κακό, όπως είναι οι στίχοι του Atticus και το φαινόμενο Rupi Kaur. Εξαιρετικά λιτή ποίηση και στίχοι που θα μπορούσαν να είναι caption μιας φωτογραφίας, raw όπως έχουν χαρακτηριστεί, και με τη δυνατότητα να γίνουν viral μέσα σε λίγες ώρες. Είναι χαρακτηριστικό ότι τα 2 βιβλία της Rupi Kaur, Milk & Honey και  The Sun and her Flowers έμειναν στη λίστα των best sellers της Amazon αλλά και των New York για μήνες και τα εισιτήρια για την περιοδεία της στις ΗΠΑ έγιναν ανάρπαστα μέσα σε 10 μόλις λεπτά! Νομίζω ότι στην εποχή μας αυτό για έναν ποιητή/ποιήτρια χωρίς τη διάδοση των social media θα ήταν απλώς αδιανόητο.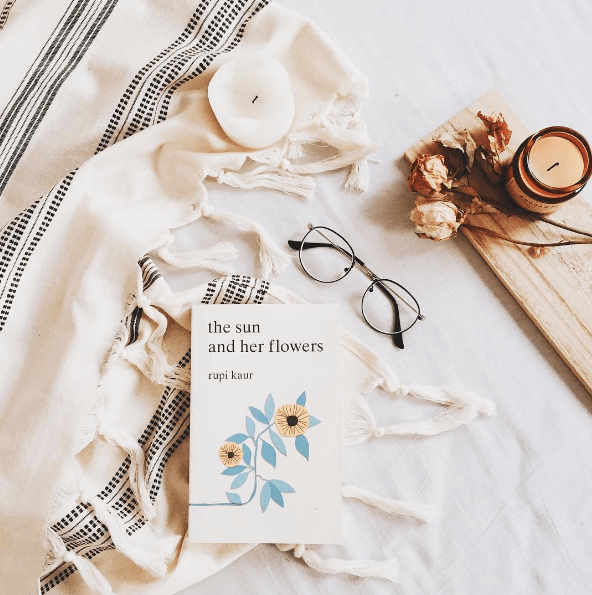 Φυσικά υπάρχει και το πρόβλημα  της διαστροφής της πραγματικότητας και της κατάθλιψης που μπορεί να προκαλέσει όλη αυτή η φτιαχτή τελειότητα. Όπως συνήθως, η λύση βρίσκεται κάπου στη μέση, καθώς το Instagram μπορεί να θεωρηθεί σαν ένα μέσο να αποθηκεύουμε τις πιο ωραίες αναμνήσεις μας – απλώς στην εποχή της υπερ-έκθεσης, φαίνεται πως θέλουμε να τις μοιραστούμε με όσο περισσότερο κόσμο γίνεται. Τους δίνει περισσότερη αξία αυτό; Νομίζω πως η απάντηση δεν είναι και τόσο απλή…
Are you on Instagram? Follow us here:
Related
Tags:
i'm loving
,
inspiration
,
literature
,
motivation
,
new trends
,
reading-ανάγνωση
,
various
,
ανάγνωση
,
βιβλία
,
διάβασμα
,
λογοτεχνία
,
ποίηση